You are here

How To Determine What Is Bad Debt (And No, It's Not All Bad)
How To Determine What Is Bad Debt (And No, It's Not All Bad)
Submitted by The Participant Effect on October 24th, 2019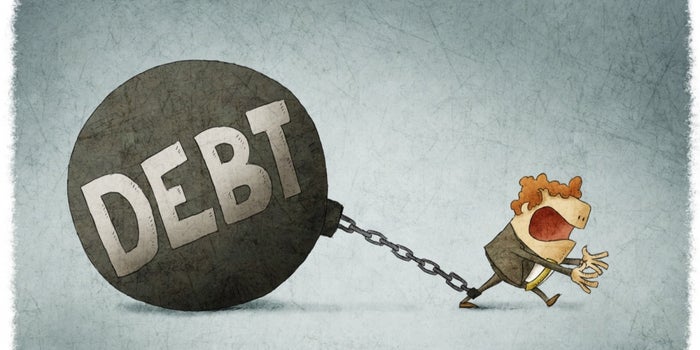 Consumer debt surpassed $14 trillion in the beginning of 2019, and it's a trend that's showing little signs of slowing down. Home mortgages, student loans, credit cards, payday loans, home equity loans, personal loans, car loans — it seems there's no shortage of ways to dig yourself into a financial hole.
There's a tendency to think all debt is bad, but that's actually not true. A better way to conceptualize debt is along a continuum from good to bad — or better to worse. Why is this important? It matters because if you understand the difference, you'll probably be more motivated to avoid and pay down the most financially damaging types of debt.
Bad Debt
Bad debt tends to be money that you borrow for things that decrease in value. It can include automobiles, consumer spending, travel, recreation and eating out. This doesn't mean that it's bad to have a car, take a nice vacation, buy a new outfit or go to concerts — it's just that you probably don't want to get into excessive debt over these types of purchases.
Unlike a house that you can sell to pay off a mortgage, you can't sell a vacation that you've already taken or a ticket to a concert you've already attended. And if you try to sell a used car or clothes, you will very quickly learn a financial term called depreciation, which is the (sometimes rapid) loss of the value of an asset over time.
Revolving Credit Lines. Credit card debt is especially bad when it's used to buy things you can't afford in the first place. If you have to carry a balance on your card, you can be faced with paying very hefty finance charges that compound the debt over time and potentially increase the cost of the things you've already purchased while their value decreases.
The Upside. Although an actual emergency fund is better, credit cards can be useful in a pinch, and using them responsibly can help you build credit over time. And sometimes, buying a professional interview outfit with a credit card, if you don't have the available cash, can help you land a better job.
Car Loans. The minute you drive a new car off the lot, it begins to depreciate in value. And once you're out of warranty, you face the prospect of costly repairs. Factor in regular maintenance and insurance, and it can be easy to get in over your head. The trend toward longer and longer terms for car loans also means you'll pay more interest over time.
The Upside. Purchasing a newer car can save on expensive repairs, offer greater gas efficiency and provide a safer ride for you and your family. Some of the "extras," however, like heated seats, a fancy stereo and a sunroof — those features are just for fun.
Cosigned Debt. Making yourself responsible for someone else's debt is a very risky situation to put yourself in. When you're a cosigner, you are just as responsible for repayment as the person who received the credit. If they don't pay, you are on the hook, and that can have potentially disastrous consequences. You might end up with damaged credit or a personal bankruptcy filing.
The Upside. It's hard to see one here. Try to avoid this scenario if at all possible. And if you choose to go down this road, be prepared to repay the cosigned loan in full.
Payday Loans. These loans are intended to be short term (until your next paycheck) and often come with exorbitantly high interest rates. The unfortunate reality for many, however, is that payday loans become an ongoing pattern of rolling over and extending the balance while fees keep adding up. This can trap the borrower in an ongoing debt cycle that can be hard to escape.
The Upside. While fast and initially convenient for the borrower, this type of debt has little upside — and there are much less costly ways to borrow money. Stay away from payday loans if you can.
The Takeaway
Try to avoid getting into bad debt in the first place. But if that's where you end up, don't panic. Talk to your financial advisor to come up with a plan for paying down all your debt — good and bad.
https://www.marketwatch.com/story/us-consumer-debt-is-now-breaching-leve...