You are here

Good Debt — It's Not an Oxymoron
Good Debt — It's Not an Oxymoron
Submitted by The Participant Effect on October 31st, 2019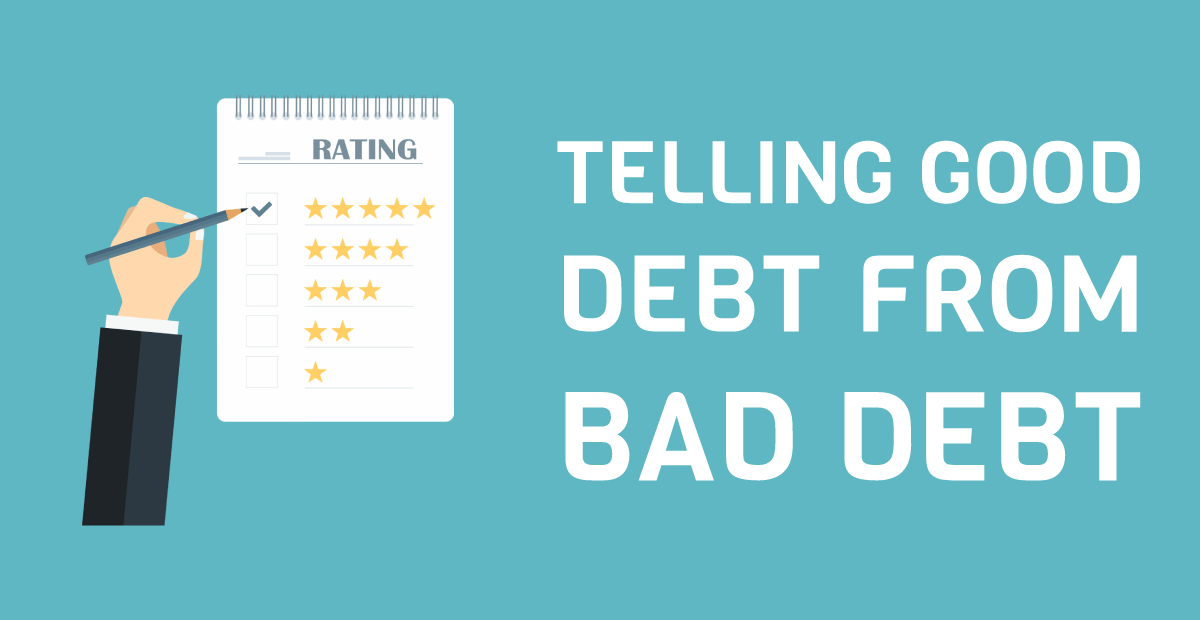 Living a debt-free life is a dream for many Americans. Sadly, it's becoming an increasingly harder dream for many to realize. As a nation, we're virtually drowning in debt, and it can have serious consequences. It can mean struggling to get married, have children or start a family or business. Even worse, it can mean having to file for personal bankruptcy — an action that can have disastrous credit consequences and take years to recover from.
While avoiding debt altogether would be ideal, the reality is some things are out of reach for most people without it, such as a car, house or college education. And given that debt is often a necessary part of life, it can be helpful to distinguish between the good and bad types. But it does raise the question of whether good debt is a reality or an oxymoron. Perhaps a more useful framework is to consider debt along a continuum from better to worse.
Better Debt
Generally speaking, good or better debt is taken on to purchase something that will likely increase in value (like a house) or that will further your earning potential (like a college education). It's debt that helps you eventually improve your financial standing.
Mortgages. It's not a given that home values will always appreciate — recall the housing bubble of the early 2000s. But historically, homes have typically done just that over time. Owning your own home is also considered part of the American Dream and as such is a very meaningful purchase for many families. It can certainly qualify as good debt. Buying a house can help you build wealth over time and provide tax advantages depending on your circumstances.
The Down Side. Purchasing a house above your means and becoming "house poor" can be a very damaging financial move. It's important to run the numbers with your financial advisor before making this important decision. You should take into account taxes, insurance and maintenance, and put aside money in an emergency fund to cover unexpected repairs.
Student Loans. Education is an investment in yourself and your future. Whether you pursue an associate's degree, bachelor's degree, trade certification or an MBA, higher education can allow you to reap personal and financial rewards for the rest of your life. In 2015, those with a bachelor's degree earned, on average, 56% more than high school graduates.
The Down Side. If you spend a lot of money for a degree in a field that is not in high demand or that doesn't allow you to generate sufficient income to pay off the debt, then student loans can end up being a weight around your neck for much of your adult life.
Small Business Loans. Investing in your business can also mean taking on some good debt if it helps to increase your earnings over time. You might purchase new equipment that allows you to be more productive or reduce costs, enabling you to earn greater profits.
The Down Side. Borrowing money for expenditures that don't lead to business growth can cause financial damage. For example, taking out a loan for pricey office furniture that fails to translate into increased sales can contribute to a business's failure. Given that, according to the Small Business Administration, only about half of businesses make it to the five-year mark and a mere third reach their 10-year anniversary, this is an important risk to keep in mind.
The Bottom Line
Even if your debt falls under the "good debt" category, you probably would like it to be gone. And financial experts would tend to agree with you. The faster you can pay it off, the more you can focus on building wealth for your retirement years.
Sources:
https://www.sba.gov/sites/default/files/advocacy/Frequently-Asked-Questi...
https://www.usatoday.com/story/money/2017/01/12/pay-gap-between-college-...