You are here

Alternatives to Raiding Your 401(k)
Alternatives to Raiding Your 401(k)
Submitted by The Participant Effect on May 16th, 2019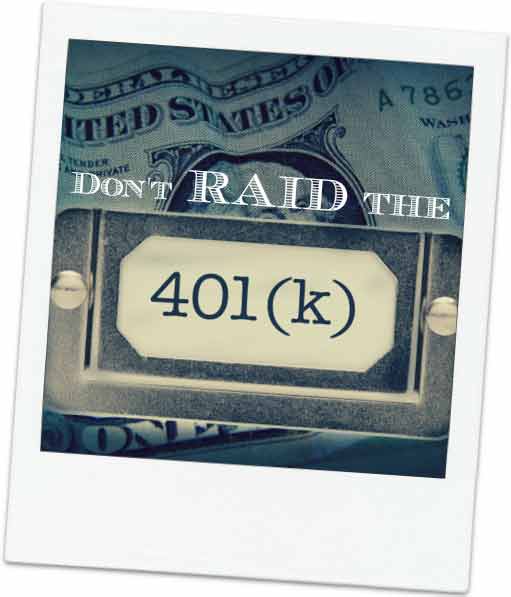 It's rarely the plan, but it happens — you're faced with a financial crisis and have to find extra funds fast. The need may arise from many circumstances including a medical emergency, costly home repairs, job loss or escalating credit card debt.
While it can be very tempting to withdraw or borrow from your retirement account, it's important to fully explore other options before doing so. Early withdrawals can come with hefty penalties depending on your age, and there's the opportunity cost of not staying fully invested over time — as well as the risk of cashing out when markets are down. Additional complications can ensue should you lose your job before you can repay the loan. Here are some alternatives to consider as you weigh your options.
Tap your emergency fund. This should be one of the first places you turn to in a crisis. Hopefully, you have at least three months worth of expenses tucked away in a low risk, highly liquid savings vehicle, such as a high interest savings account. If you haven't already established an emergency fund, now is the time to start building one up.
Sell other investments or assets. Look at nonretirement investment vehicles before touching your 401(k). Discuss the available options with your financial advisor to help decide what makes the most sense to liquidate while avoiding penalties and fees if possible.
Tap home equity. Consider using a home equity loan or line of credit (HELOC) instead of your retirement account. Another option is to refinance your mortgage and cash out, which may offer the added benefit of securing a lower interest rate on your home loan. Of course, with these options you can also incur significant closing and other costs so it's important to do your research first. Just remember using your house as collateral brings its own set of risks as well.
Borrow from family. This option comes with some pretty significant caveats and isn't the best choice for everyone. If for whatever reason, you're unable to repay the loan, you can potentially put some of your most important relationships at risk. If you decide to keep it "in the family," map out specific terms for repayment including interest and put everything in writing. An alternative to a loan from a family member or friend is online peer-to-peer (P2P) lending services.
Take on a side hustle. If time is on your side, you can do a little freelance work to cover your shortfall. Whether it's graphic design, music lessons, yard work or Ubering, there are a lot of options available to you in the new gig economy. A few weeks or months of extra work may be all that you need to avoid touching your 401(k).
Apply for a personal loan. These loans can either be secured or unsecured. Putting up your car, savings account or other assets as collateral may help you obtain a lower interest rate and more favorable terms while avoiding steep penalties and other disadvantages of tapping your 401(k). But this also places those collateralized assets at risk if you default on the loan. Be sure to read the fine print carefully before signing on for this option.
If you're faced with a financial hardship, a good first step is often to set up a meeting with your financial advisor. Depending on the nature of the crisis and your individual circumstances, he or she may be able to come up with other options to address your situation while keeping you on track to reach your retirement goals.