You are here

What is The Participant Effect?
What is The Participant Effect?
The Participant EffectSM is a guidance based, beginning to end retirement method to help you create confidence in an employees' financial life.
Why?
The data doesn't lie. At The Participant EffectSM we've studied over 40 years of data examining the decisions employees make when presented with benefits at work and financial decisions at home.
Research tells the story. We've participated in Think Tanks led by Dr. Richard Thaler, 2017 recipient of the Nobel Prize for Economics and Dr. Shlomo Benartzi at UCLA Anderson.
Conclusions are telling. We have determined that traditional retirement plan and other education doesn't work. No one in the industry (HR professionals, Finance Professionals and Record Keepers) has any empirical data that supports the effectiveness of education. Further, there is no evidence that these programs are sustainable in their impact, if any.
Employees are lost. Your employees spend much of their day at your work place worrying about money related issues. Productivity declines, employees incur stress-related health claims and they stay longer in your workplace because they cannot connect their personal financial condition with the benefits you offer.
Method!
The Participant EffectSM (TPE) employs a solution-based strategy that has measurable results.
The Participant EffectSM BeFi (Behavioral Finance) examines your plan design and determines how that design affects the actions of your employees. This proprietary technology with our deep national resources provide for plan design assistance that helps drive desired behaviors.
The Participant EffectSM Financial Wellness is a holistic approach to understanding the motivations of your employees and what their needs are. We deliver the results of financial wellness assessments to your plan committee and re-design the education messaging to address the needs of employees.
The Participant EffectSM Financial Wellness makes succinct 3 tier Action Plans to each employee and TPE Advisors are employed to assist employees.
Results!
The Participant EffectSM Financial Wellness delivers a myriad of measurable results including:
Reductions in financial stress-related health claims including psychological, migraines, stomach, blood pressure, etc.
Goal oriented employee Action Plan with actionable and measurable results.
Older, less productive employees see viable retirement options and their associated expense on your health plan dramatically reduced.
Employee engagement is measured and employees report they finally understand their benefits and the role it plays in their personal life.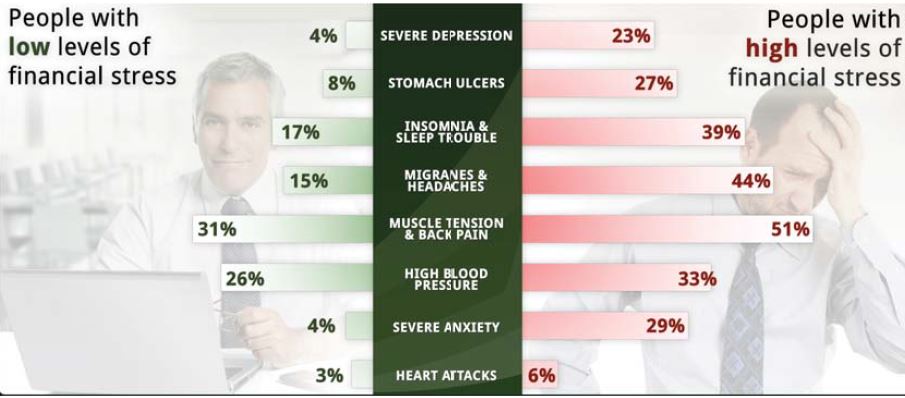 Source: AP-AOL Health Poll - Debt Stress - The Toll Owing Money Takes On The Body